Menu
Support us using Amazon Smile. Use this link to add Baruch Haba as your supported charity. You must always use smile.amazon.com in order for your purchases to support our congregation at no cost to you. A small percentage of your purchases on Amazon Smile are donated to Baruch Haba.
smile.amazon.com

You may donate to Baruch Haba via PayPal using the Donate button below.
Phone: 859-266-5033
Email: info@baruchhaba.org
Mailing Address:
P.O. Box 23280
Lexington, KY, 40523

Weekly Shabbat Services at 11 a.m. on Saturdays at Christian Assembly in Nicholasville, Kentucky.
---
Shalom, Welcome to Baruch Haba, a Messianic Jewish Congregation in the heart of the Bluegrass, in Lexington, Kentucky. We have weekly Shabbat Services at 11 a.m. on Saturdays.
Join us this week at 2007 Ashgrove Road in Nicholasville, Kentucky.
Join us for our services at 11 a.m. Saturday mornings every Shabbat.

We now have audio recordings (in mp3 format) of our weekly sermons.
Please see the Teachings page for more information.
Guest Speaker on March 24th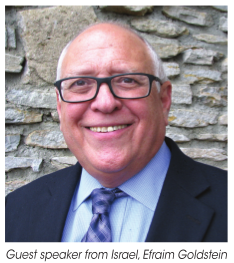 Efraim Goldstein is a Jewish believer in Yeshua serving in ministry with Jewish people for more than 35 years. He immigrated to Israel in 1974 and has studied historical geography, archaeology, and Jewish history in Jerusalem and has a Doctor of Ministry degree from Asbury Theological Seminary. With his wife, he leads a Messianic congregation in northern Israel.
Passover is Arriving
Baruch Haba Messianic Jewish Congregation Pesach Seder
Sunday April 1 at 5:30pm
The Community Room at Kalas Village, Susanna Way, Wilmore, KY
Adult $13
Children 10 and under $7
Families of 5 or more $35
Please mail check by March 26 to P.O. Box 23280, Lexington KY or use the PayPal link on the side of the page (Donate) and in the special instructions box, please indicate that this is for the passover seder.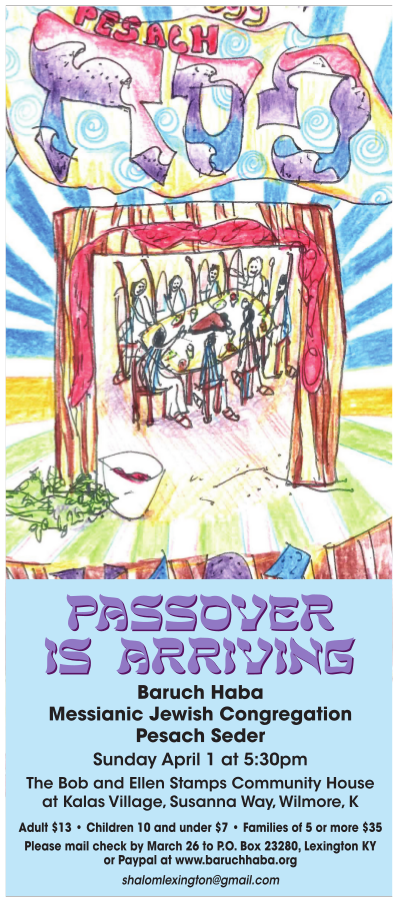 ---